Erin King-Brown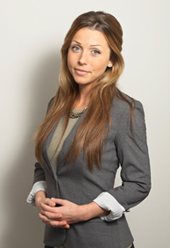 Erin King-Brown is a PhD candidate in Counselling Psychology. She has worked in the areas of crisis intervention counselling, family therapy, and individual counselling supporting individuals dealing with a number of concerns including trauma, eating disorders, anxiety, depression, grief, career transitions, and relationship issues. She has also received further training in Cognitive Behavioural Therapy (CBT) at the Toronto Western Hospital (TWH) Community Mental Health and Addictions Program. In this capacity she gained extensive experience in the areas of psychological assessment and treatment for mental health and addiction problems as well as providing CBT psychotherapy groups for individuals dealing with concurrent disorders. Erin has a special interest in health psychology as well as trauma-related concerns and eating disorders.
Conference Presentations:
King-Brown, E., & Rodger, S. (2011, June). Trauma symptoms and coping responses in women who have experienced violence. Poster presented at the Canadian Psychological Association 2011 Annual Convention, Toronto, Canada.
Kent, B., King-Brown, E., McFarland, C., & Buehler, R. (2009, June). The impact of negative moods on memories of personal attributes. Poster presented at the American Psychological Association, 117th Annual Convention, Toronto, Canada.
Certifications and Training:
Emotion-Focused Therapy for Complex Trauma (2011, June)
Dr. S. Paivio and Dr. A. Pascual-Leone, Canadian Psychological Association Convention, Toronto, ON.
Intensive Short-Term Dynamic Psychotherapy (2011, April)
Dr. G. Hamovitch, Ontario Psychological Association, Toronto, ON.
Cognitive Behavioural Therapy (CBT) for Co-Occurring Insomnia (2010, Nov)
Dr. C. Carney, Toronto, ON.
Strategies for Fostering Motivation, Self-Discipline, and Resilience (2007, Nov)
Dr. R. Brooks, Vancouver, B.C.
North Carolina Family Assessment Scale (NCFAS) Training (2007, Oct)
Surrey Ministry of Child and Family Services, Surrey, B.C.
Non-Violent Crisis Intervention (2007, July)
Crisis Prevention Institute Surrey, B.C.
Crisis Intervention Counselling and Suicidality (2006, July)
SHARE: Family & Community Services Society, Coquitlam, B.C.
Scholarships and Academic Honours
Western Research Graduate Scholarship valued at $12, 675 (2008 – 2012)
Member of the Golden Key National Honours Society: Recognizes outstanding scholastic achievement among university students. Membership into the Society is by invitation only to the top 15% of university students (2003 – Present)
Professional Memberships:
Canadian Counselling and Psychotherapy Association
(Member in Good Standing, Certification number 1731)
Ontario Psychological Association
Back
Contact us to Inquire!
Services
Dr Eliana Cohen Psychology Professional Corp. is ranked as a top Counseling & Mental Health in Toronto ON
Verified by
Yocale.com
Top