Taylor McInnes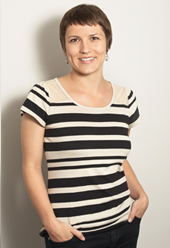 Taylor McInnes is a PhD candidate in Counselling Psychology. Taylor has worked with clients from a diverse range of backgrounds and an array of presenting issues including depression, anxiety, interpersonal difficulties, and emotional dysregulation. She also has experience working with couples, specifically with conflict management and communication. Taylor has trained in psychodynamic, humanistic-existential, and acceptance and commitment therapies. She is also experienced in providing comprehensive psycho-educational assessments. In her assessment role, Taylor has worked with clients with ADHD, learning disabilities, and test-anxiety.
Taylor's masters and doctoral research projects, exploring the relationship between meaning, fulfillment, and career development, both received prestigious funding awards from the Social Sciences and Humanities Research Council of Canada (SSHRC). In line with her research, Taylor has a particular interest in working with clients struggling with meaning, self-actualization, career, or other fulfillment issues.
Taylor played a prominent role in her department's student association as co-chair and member of the professional development committee. In this role she organized and moderated multiple events with representatives from the College of Psychologists of Ontario, the Ontario Psychological Association, and the Canadian Psychological Association regarding competencies, training, and registration for future psychologists.
Publications:
McInnes, T., & Chen, C.P. (2011). Chronic career indecision: Amalgamate career development theories and action research perspectives. International Journal of Action Research, 7, 80-100.
Conference Presentations:
McInnes, T., & Chen. C.P. (2012, July). The career re-training experience of professional immigrants to Canada: An existential perspective. Presented at The 7th Biennial International Meaning Conference, Toronto, Canada.
McInnes, T., & Chen, C.P. (2012, June). The career re-training experience of professional immigrants to Canada: An existential perspective. In C.P. Chen (Chair), Psychological and vocational wellbeing of new immigrants. Symposium at the Canadian Psychological Association annual convention, Halifax, Canada.
Libben, M., McInnes, T., & Titone, D. (2006, May). When gossip doesn't spread: Semantic constraint effects on interlingual homograph activation. Poster presented at The International Conference on Bilingualism and Second Language Acquisition, Toronto, Canada.
Selected National Grants:
SSHRC Doctoral Fellowship, $20,000 x 4 years
Awarded May 2012
SSHRC Joseph-Armand Bombardier Canada Graduate Master's Scholarship, $17,500
Awarded May 2011
Additional Training:
Meaning-Centered Counselling & Therapy (2011, August)
Dr. P. Wong, International Network On Personal Meaning Summer Institute, Toronto, ON
Navigating Therapeutic Routes: 1 Client, 3 Evidence-based Approaches to Recovery (2011, June)
EFT / Dr. J. Watson; CBT / Dr. R. McCabe; IPT/ Dr. P. Ravitz, Canadian Psychological Association Convention, Toronto, ON
Intensive Short-Term Dynamic Psychotherapy (2011, April)
Dr. G. Hamovitch, Ontario Psychological Association, Toronto, ON
Professional Memberships:
Ontario Psychological Association
International Network on Personal Meaning
Association for Contextual Behavioral Science
Back
Contact us to Inquire!
Services
Dr Eliana Cohen Psychology Professional Corp. is ranked as a top Counseling & Mental Health in Toronto ON
Verified by
Yocale.com
Top